Many of our International students comment that they appreciate the teachers here because all of the staff care and have patience. Below are examples of success from our International Program: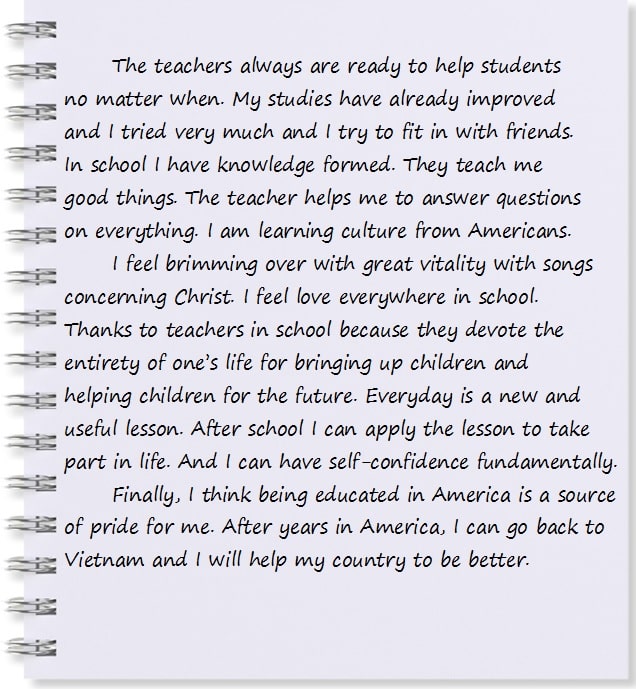 "Simon Lee Leads by Example"
(From The Cambridge Insider)

     Simon Lee joined Belleview Christian School as a reticent 9th grade student seeking to improve his English and assimilate into American culture. To help Simon achieve his goals, the school planned to bring him along slowly but surely, by perfecting his English skills and understanding of American culture through supplementary classes and school clubs. While Simon appreciated the slow but steady approach, he quickly showed that he was more than up to the challenge: Simon graduated from his English Learning classes in record time achieved Presidential High Honor Roll by maintaining a 4.0 GPA for two consecutive quarters and joined both the school's basketball team and choir. Teachers at Belleview have taken notice of Simon's tenacity toward learning, but also his warm and amiable disposition. "He is friendly to all students and a model of character and morality", notes Linda Graybeal, ELL Instructor for Religion and U.S. History. "He is truly becoming the type of leader our school desires to produce."
Tram joined the Belleview Christian family her sophomore year and is a blessing to her class and the faculty. The following is her speech from graduation addressed to her class, family and friends:
"Good evening honored guests, families, friends, and my fellow graduates. I am an international student, who came from Vietnam and has been in America for about one and a half years. I feel truly humbled and honored to stand here tonight before you and give a speech for my class of 2011 at Belleview Christian School.
When I decided to study abroad, I expected there would be many difficulties on the road that I chose. However, when I actually experienced it, that was a whole different story. Sometimes, there were problems which seemed I could not overcome, but I knew those are the lessons God wanted to challenge me and teach me in this life. Moreover, I have always had a big encouragement from my family, my teachers and my friends to continue walking on the road after falling hard. Maybe they don't know how much they have made my life different, but I am so thankful and appreciative for all of their love for me.
First, I especially thank my grandparents, my aunts, my uncles, my cousins and my friends for taking care of me so much. Even though I can't feel my parents' physical care here, the caring from my relatives always fills up my loneliness and homesickness. They worry about me even in just the little things, when I work, when I feel unwell, or when I am just lost on the way. I might be the one who does not talk much at home, but in my heart, their favors for me are ones I can never repay.
Secondly, when I think of the people who made a difference in my life as well as every student at Belleview Christian School, it is obvious that those people who choose a path to bring their happiness to students and the glory to God have nothing to do with money. I will just name a few of the people who have a strong impact on my life, but I know every teacher in my school has their own lists. Mrs. Rogers, my math teacher, who is inspirational and extremely hard-working, has helped me a lot since the first day I came to the school. Mr. Hodgson, the greatest and most brilliant science teacher I have ever had, who is building a school in Liberia for the African kids and plans to work in that school next year. Dr. Polson, our principal, who has made Belleview Christian School the outstanding school as it is today. These are the people that God has sent to the world to accomplish His work and are doing excellent jobs. Part of the purposes of today's graduation is to stop and appreciate what we have, and to say "thank you" to the teachers and those who have guided us to this day. In addition, thank you to all the guests who each have played a great role in our lives.
When we are going to start the next phase of our lives, we will never forget what you have done and taught us. You motivate us to keep moving to accomplish more than we thought we could. When the graduation day was coming nearer, we realized our time together was coming to an end. We had so many special memories of SLR, the Junior-Senior banquet, and other events of these months. It is so hard to leave everything behind and say "good-bye". However, those times will never be forgotten and keep us moving on confronting the challenges that lie ahead. Orrin Hatch said, "There is good reason they call these ceremonies 'commencement exercises'. Graduation is not the end, it's the beginning."
We are proud to be the children of God and graduate from our Belleview Christian School.
Congratulations!!!
God Bless you."