The following are some behaviors that reflect character values and expectations that we strive to teach and model at BCS. 
Students are encouraged to demonstrate these behaviors at all times
Practice honesty, truthfulness, and responsibility.

Show respect to others.

Be obedient. 

Be encouraging. 

Practice self-control.

Make good choices.
**As a school, we believe that the above values and expectations are a joint partnership between families and the school.
Christ-Centered
Our teachers integrate God's Word to teach about His world. By doing so, your child will learn about the world they live in through the eyes of a loving God who sent Jesus Christ into the world to redeem them.
"For God so loved the world that he gave his one and only Son, that whoever believes in him shall not perish but have eternal life." John 3:16
Partnership
Did you know that around 7 hours of your child's day is spent at school?
When compounded over their academic career the implications of what they are taught has an eternal impact. For this reason, we are passionate about partnering with you to bring a Christ-centered education to your child. 
"Train up a child in the way he should go, and when he is old he will not depart from it." Proverbs 22:6
We expect all of our students to demonstrate respectfulness, honesty, kindness, self-control and responsibility. Students who exemplify these character traits—going above and beyond what is expected—may receive "PAWS-itive Points," which can be redeemed for various prizes.
"No child will keep a teacher from teaching or other students from learning."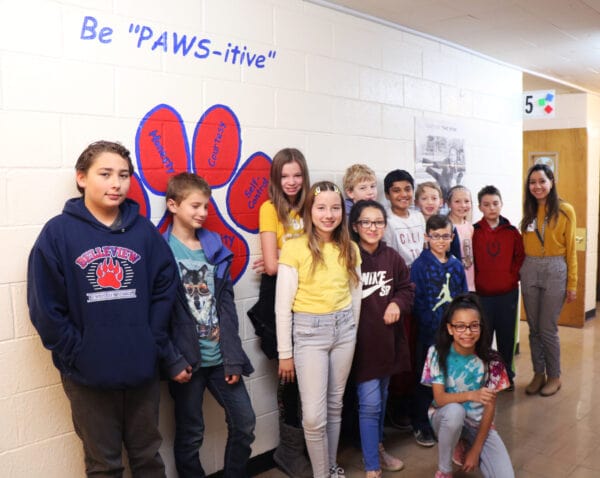 Individual teachers have developed classroom policies compatible with the school's philosophy. We regard our disciplinary program to be an extension of our spiritual program. Our desire and intent is for students to learn certain lifetime core values while here at Belleview. Therefore, we have chosen to keep rules to a minimum that are enforceable.
The goal of the Belleview dress code is to ensure that students are dressed in a manner that is clean, neat, conservative, and modest.
DETAILS
To enable our teachers to focus on learning rather than policing dress code, we strongly urge parents to help us by purchasing modest non-printed polos, t-shirts, blouses, etc. We encourage Belleview t-shirts and Christian-themed shirts. Our primary objective is to teach the values of appropriate dress rather than dictating detailed rules. Students should avoid extremes and practice moderation of any style. The administration retains the right to determine whether an individual student's appearance meets these qualifications.